Trade Wind Trails
on Riviera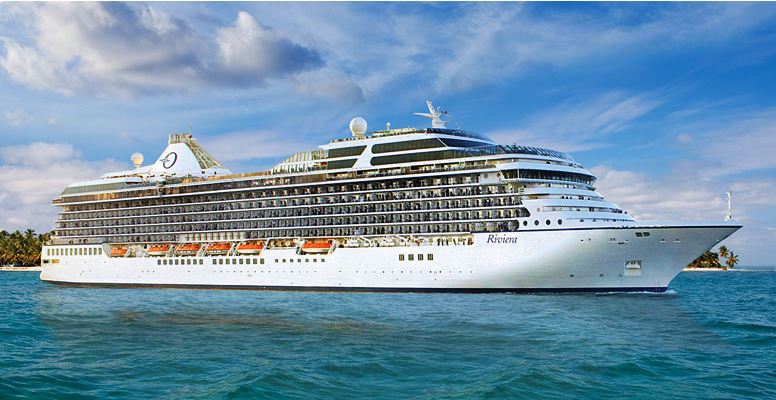 TRADE WIND TRAILS

Explore beyond the Caribbean's best-known destinations to a collection of ports distinguished by their splendid colonial heritage. Delight in the whimsical architecture of the Dutch Antilles, appreciate the French flavor of Guadeloupe and St. Bart's, study the Maya relics of Belize and, at each and every stop, glory in exquisite landscapes bathed by the radiant sun.

Formed in 2002 by luxury cruise industry veterans Frank Del Rio, Joe Watters and Bob Binder, Oceania Cruises is the world's largest upper premium cruise line. The Finest Cuisine at Sea
™
, Destination Specialists and Intimate & Luxurious Ships are the pillars that define Oceania Cruises' five-star product, positioning the line as the cruise company of choice for travelers seeking a truly refined and casually elegant travel experience.
Featuring a fleet of warm and luxurious ship
/p>
...
Cat. G, OLife: Amenities, airfare from select gateways
| Day | Port | Arrive | Depart |
| --- | --- | --- | --- |
| 1 | Miami | | 6:00 PM |
| 2 | Cruising The Straits Of Florida | | |
| 3 | Cozumel | 8:00 AM | 11:00 PM |
| 4 | Costa Maya | 8:00 AM | 6:00 PM |
| 5 | Roatan | 8:00 AM | 6:00 PM |
| 6 | Santo Tomas | 8:00 AM | 7:00 PM |
| 7 | Harvest Caye | 8:00 AM | 6:00 PM |
| 8 | Belize City | 8:00 AM | 6:00 PM |
| 9 | Cruising The Straits Of Florida | | |
| 10 | Key West | 7:00 AM | 6:00 PM |
| 11 | Miami | 6:00 AM | 6:00 PM |
| 12 | Cruising The Old Bahama Channel | | |
| 13 | Cruising The Caribbean Sea | | |
| 14 | Oranjestad | 9:00 AM | 11:00 PM |
| 15 | Willemstad | 8:00 AM | 7:00 PM |
| 16 | Kralendijk | 7:00 AM | 3:00 PM |
| 17 | St. George's | 1:00 PM | 9:00 PM |
| 18 | Bridgetown | 8:00 AM | 6:00 PM |
| 19 | Pointe A Pitre | 8:00 AM | 6:00 PM |
| 20 | Gustavia | 8:00 AM | 4:00 PM |
| 21 | Cruising The Atlantic Ocean | | |
| 22 | Cruising The Atlantic Ocean | | |
| 23 | Miami | 7:00 AM | |